VISIT TO WARENDORF AUGUST 2011
There's a first time for everything and that's just what this holiday offered me: first time through the Hindhead tunnel, first time through the somewhat larger Chunnel and first time in Warendorf. At last I would get to see why everyone raved about the place.
First impressions showed a fairly flat landscape of farmland with large farmhouses, many horses and large acreages of maize blowing in the wind. That there is a certain amount of breeze was evident from the large number of wind turbines. The fact that the environment and being eco-friendly is important (the Greens are part of the coalition governing Westphalia) was also shown by the huge number of roofs covered with solar PV panels and the quantity of cyclists of all ages using the dedicated cycle lanes which are well separated from the traffic and form an extensive network.
Because of planned trips to Münster on the first day and Soest and Möhnesee on the second it wasn't until the weekend that I had a chance to see Warendorf town itself. I had already realised that it was quite a bit bigger than Petersfield and now this was confirmed as Susan Bock, Chairman of the Warendorf twinning took us on a guided tour to see the arches which had been especially erected around the town to celebrate the Assumption of the Virgin Mary. (photo:arch)These arches of which there were nine, were situated throughout the medieval town centre and were erected by groups in each neighbourhood following a tradition started in the early 1700s by two journeyman joiners from Warendorf, who had seen triumphal arches erected in Vienna in honour of the Austrian Empress Maria-Theresia. In the evening after nightfall we re-entered the town centre which had been transformed. There were no streetlights and the only illumination came from strings of red bulbs covered in red paper lanterns, lit displays featuring the Virgin Mary in shop and house windows and the arches themselves, mostly lit with bulbs but three lit by open gas flames. It was all rather magical and we were just a few of many people who filed through the streets visiting the arches and listening to groups of musicians at each arch playing hymns and sacred music. Of course this is a festival which will never be seen in Petersfield firstly because it is Catholic and second and most importantly because Health and Safety would definitely not allow it! Many areas were pitch-black and with the very uneven cobbles it seemed to be an accident waiting to happen. One of the arches had open gas flames at below head height and a few singed jackets were the least of the possibilities. Rather refreshing that the Germans haven't had their hands tied by H&S! The following morning several of our party joined the religious procession and service for which the arches are intended, I however, was taken by my hostess to have an early morning dip in the town's rather splendid open air pool. (photo: openair pool) We met Rodney and Rosemary Clark there and being on the committee of Petersfield's pool, Rodney and I immediately began taking mental notes. Interestingly the lifeguard seemed to take his duties ite casually and we assume this is another example of fairly lax H&S rules.
| | |
| --- | --- |
| Maria Himmelfahrt Arch | Open-Air Pool in Warendorf |
Our visit to Münster on the first day began with a tour on an open-top double decker bus with an amusing guide. Amongst other things, he told us that there are 900 bars and 70 churches and that any structure for which there doesn't seem to be a use, is probably 'art'. The large stone balls by the Ansee which Vaughan called 'large marbles' were a good example of this. The highlights of Münster for me were coffee and cake in a traditional café, a very beautiful and expensive shoe shop, a view over the city from the top of the modern town hall,(photo: Lamberti church aerial view) a glass chandelier in the underground Ladies loo and the Astronomical clock in the Cathedral. In Münster, a University town, the bike is a very important means of transport and they seemed to be everywhere. However we were assured that when the term starts, bike numbers increase one hundred-fold! (photo: bikes)
| | |
| --- | --- |
| Lamberti Church | Münster Bikes in Münster |
Our second day dawned wet and grey and so it was when we arrived in Soest. This rather beautiful medieval town is famous for its half-timbered houses and buildings made from the local green sandstone and its ducking see-saw and never-frozen pond.(photo:Soest) Excavations show that it has been a place of human habitation for the past 4000 years because of the fertile land but also the saline springs from which salt, a vital commodity for preserving foodstuffs, was produced. Our guide had lived in Soest for over 30 years but said that until someone has eaten a sack of salt they are not regarded as truly native. Soest was a member of the Hanseatic League and amongst other things traded salt, which contributed to the townsfolk becoming 'stone-rich' as they say in German. A medieval fair was being set up and every now and then we ran into rather strangely dressed folk, tethered ponies and canvas pavilions with meat roasting on open fires and big cauldrons of stew bubbling away. They were celebrating the Feud, which occurred in 1444, when Soest decided to split from the Archbishop of Cologne, overlord of the town, who was demanding ever-punitive taxes. Soest was besieged for 5 years before the Archbishop ran out of money to pay his troops. Some of the costumes were lovely and I felt tempted to join the 'raggle taggle gypsies' despite the rain! I cannot finish with Soest without mentioning the fabulous stained glass or the Westphalian Last Supper complete with boar's head, beer in large tankards, ham and of course, pumpernickel, both to be found in the St Maria zur Weise church.
Our next scheduled stop was at the Möhnesee Dam, that of Dambusters fame, and as we walked out onto this huge and impressive structure, the sun started to shine brightly. Susan Bock and deputy mayor Wolfgang Jäger had a surprise for us when they produced a large engraved padlock which together with Phil, our Chairman, they proceeded to lock to the fence. The key was then thrown into the water and lost forever. This has become a bit of a craze for lovers in Germany, to symbolize their undying love and hence we are now bound to Warendorf forever!! (photo img0172 heinz) Then, after a rather longwinded talk from a guide, we boarded a pleasure boat for tea/coffee and cake and a very pleasant cruise on the dam, before returning to Warendorf
| | |
| --- | --- |
| Soest | Petersfield & Warendorf are bound together forever |
In our jam-packed week the group also visited Burg Hülshof, the moated small castle home of famous poet Annette von Droste-Hülshoff where we had lunch in the sunny courtyard and some of us struggled to translate German proverbs provided by Uli and Susan, found as carvings on the stairpost in the house.
I was also taken for a delicious strawberry spaghetti ice to dispel my notion that it was a dish involving pasta, on a town walk to find many of the painted horses (photo:painted horse), to the parade of the Hoetmar Schützenfest, an interesting if somewhat controversial marksmen's contest held in many villages and towns in the region and to an afternoon of trotting racing. Others visited the National Stud, a thermal spa and other attractions in the area. My hosts, Hedwig and Heinrich Schneyer were extremely hospitable and, it was a fun, well-organised and interesting visit which concluded with a delicious farewell buffet supper and more German hospitality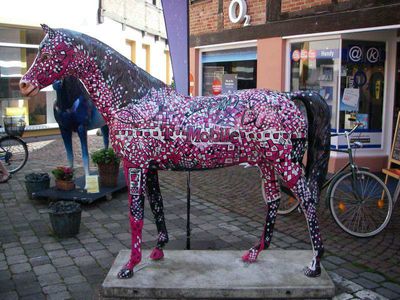 One of Warendorf's painted horses